Consultant Ophthalmologist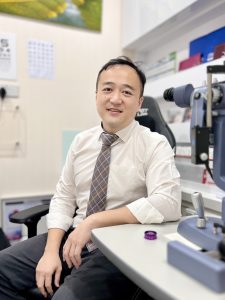 MBBS (UK), MRCOphth (UK), FRCOphth (UK), FAMS (SG)
Dr James Ng, a Consultant Ophthalmic Surgeon, specialises in both retinal surgery (such as retinal detachment repair, macula hole and epiretinal membrane surgery, vitrectomy for diabetes) and medical retina diseases (age-related macular degeneration, retinal artery/ vein occlusions, diabetic retinopathy etc). He also performs laser vision correction surgery such as Trans PRK surface ablation, LASIK and SMILE surgery. His other area of specialization is in the diagnosis and management of Uveitis (ocular inflammatory disease) which includes diagnostic vitrectomy biopsies and immunosuppression treatment which includes biologics.
Dr Ng obtained his MBBS medical qualification at the St. Bartholomew's and The Royal London Medical School at the University of London in the UK. He also obtained a BSc (Hons) degree in the History of Medicine at the world famous Wellcome Institute in London. At Tan Tock Seng Hospital, he completed his specialty training in Ophthalmology and obtained Fellowship of the Royal College of Ophthalmologists in London (FRCOphth). 
After obtaining Fellow of the Academy of Medicine, Singapore (FAMS) and Specialist Accreditation Board accreditations, he did 3 years of subspeciality fellowship in the United Kingdom. The fellowships were in internationally renowned eye hospitals: 
1. Bristol Eye Hospital, Bristol, UK.
– Professor Andrew Dick, Uveitis and Vitreoretinal Surgery. 
– Clare Bailey, Medical Retina and Macula Disease.
2. Oxford Eye Hospital, Oxford, UK.
– Professor Robert MacLaren: Medical Retina, Gene Therapy, Genetic Eye Disease and Vitreoretinal Surgery.
– CK Patel: Paediatric Vitreoretinal surgery.
– Srilakshmi Sharma: Uveitis and Medical Ophthalmology.
3. Moorfields Eye Hospital in London.
–  Professor David Charteris, Louisa Wickham, and Mahi Muqit: Vitreoretinal Surgery.
Diabetic retinopathy- medical, laser and surgical vitrectomy.
Age-related macular degeneration.
Floaters and retinal detachment surgery.
Complex cataract surgery.
TransPRK, LASIK and SMILE laser vision correction surgery.
Secondary intraocular lens fixation by iris fixed or scleral fixed techniques.
Pterygium excision with/ without fibrin glue.
Eye reconstruction after trauma or surgery.
Uveitis / immune disorders and infective conditions of the eye.
Comprehensive Ophthalmology- including but not limited to glaucoma, drug monitoring, dry eye and myopia control.
Fellowship and Accreditations
MBBS Bachelor of Medicine, Bachelor of Surgery, University of London, UK
FRCOphth Fellow of the Royal College of Ophthalmologists, London, UK
FAMS Fellow of the Academy of Medicine