SMILE Recovery Expectations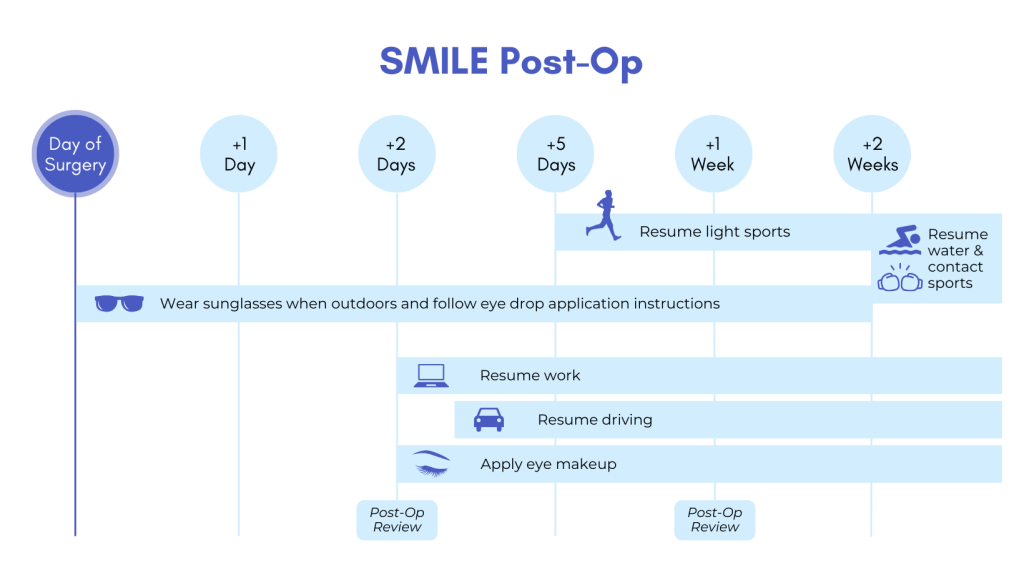 Phase 1: Initial Recovery from Surgery
Immediately after surgery, vision will be blurry and patients will be provided with a 3-day MC to rest at home for a few days before they can go back to work.
For SMILE patients, vision will be blurry right after surgery and they will not be able to see clearly. However, the blur should improve in 2 – 3 days for most patients, and vision should be clear enough to be able to go back to work. However, tasks such as reading fine print for extended periods might still be challenging for the first 1 – 2 weeks.
Patients are required to follow a strict routine of eye drops application. SMILE requires 2 types of eye drops to be applied multiple times a day for at least the first week, after which number and frequency of eye drops will decrease (eye drops application can continue for up to 1 month or longer), depending on how the patient's eyes heal.
Protective sunglasses must be worn whenever outdoors for 1 month, to prevent UV exposure which can be harmful to the healing process. (UV blocking sunglasses are provided to Clearvision patients).
During this initial stage of recovery, it is very important that patients follow post-op care instructions strictly to ensure a successful recovery.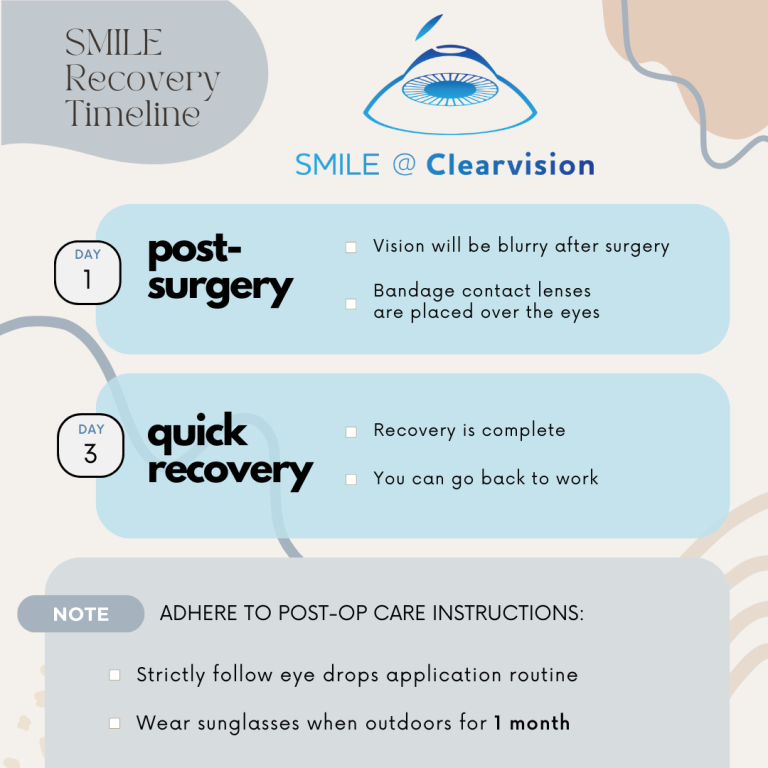 Phase 2: Full Visual Recovery
The gradual and steady path to full visual recovery takes anywhere from a few weeks to a few months, after the initial stage of recovery where patients' eyes have healed from surgery and they have returned to work. During this period of recovery, clarity of vision may fluctuate from day to day, but progressively improve over time. Our advice to patients is to try not to equate the clarity of vision to how well your eyes are healing – clear vision might not mean you are completely healed and can stop following the post-op care instructions – similarly, blur vision does not mean that your eyes are not healing well.
Full visual recovery, where your vision has totally stabilised and your eyes are consistently seeing very clearly, takes 1 – 2 months (patients with high myopia may take up to 3 months)
We ask for your patience and trust during the healing process – as with any surgery, everyone heals differently and there is no guarantee of achieving a specific result 100% of the time. Complications are uncommon but can never be ruled out completely. At Clearvision, we provide the technologies and expertise to achieve the goal of clear vision for our patients. However, patients' diligence and care during the healing process also play a big role in achieving the desired visual outcome – 95% of patients will achieve 20/20 vision as long as they:
Post-Operative Follow Up Reviews
After surgery, you can expect to return to the clinic for follow-up reviews at these points during your recovery:
1 day / 2 days post-surgery (depending on what day of the week you had your surgery)
1 week post-surgery
1 month post-surgery
2 months post-surgery
More follow-ups may be required, subject to the individual's healing progress.
Resuming Regular Activities
Post-SMILE, you will be allowed to resume these activities after a specific period of time: