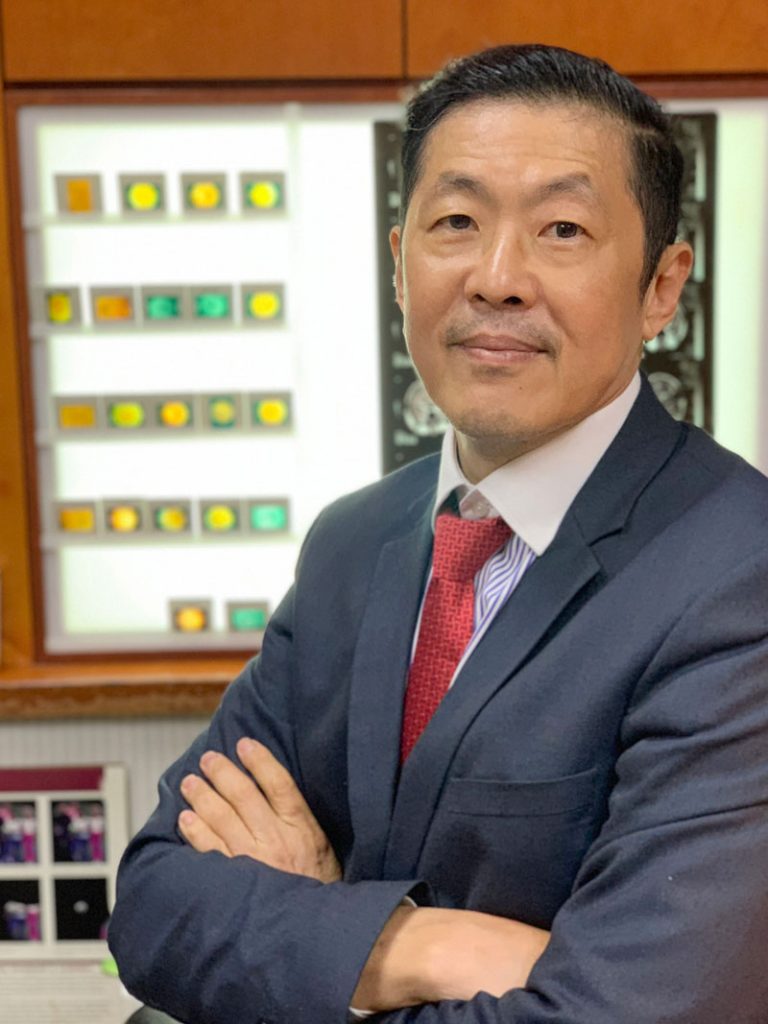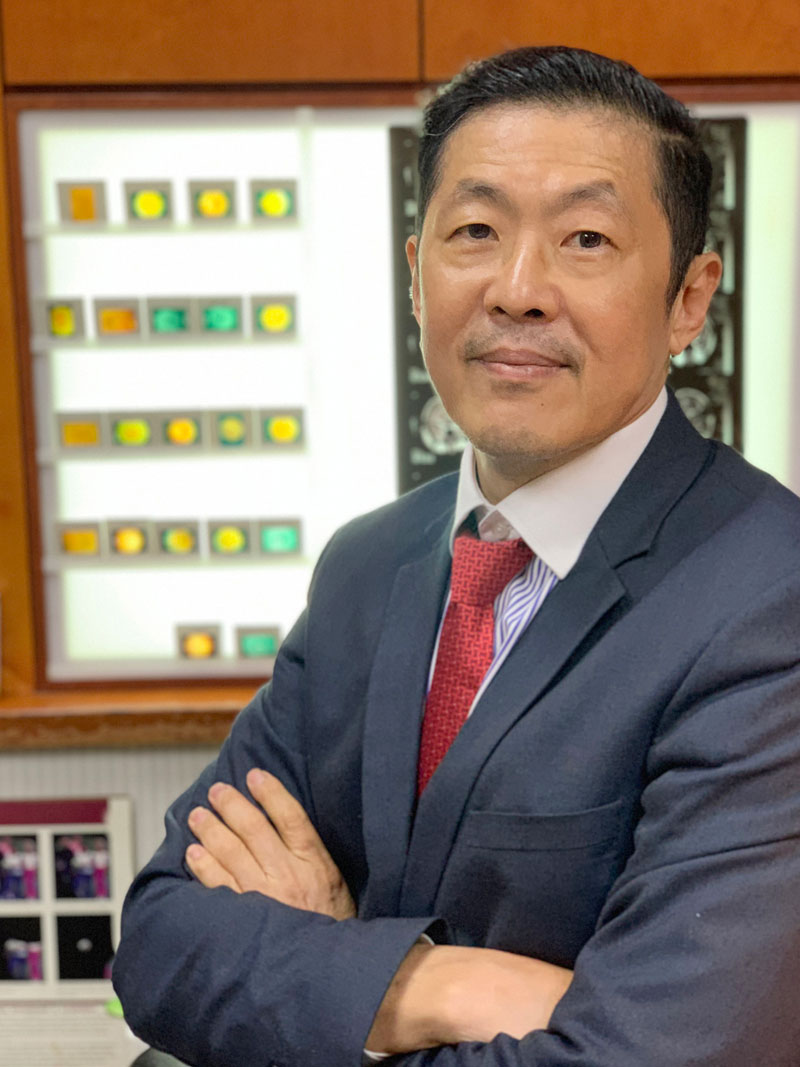 By Dr. Tony Ho
Senior Ophthalmic Surgeon
Modern Laser Vision Correction as an Alternative to Contact Lens Wear
Nowadays, most of us are aware that the burden of wearing glasses and contacts to see clearly no longer has to be a "life sentence"! Indeed, modern medical advancements in laser vision correction, have now made it a safer choice than wearing contact lenses daily over a prolonged period of time.
However, many of us are still confused as to which laser vision correction procedure to choose. In the past, LASIK was correctly regarded as the de-facto procedure of choice. Thanks to recent advancements in laser vision correction, there are now other equally viable alternative methods available.
This article is focused on three popular methods of laser vision correction, namely PRK, EpiLASIK and TransPRK – surface-based methods that do not involve the cutting of the cornea. Therefore, they have the advantage of having no risk of corneal flap complications and the least risk of procedure-induced dry eye complications.
Understanding Surface-Based Laser Vision Correction Procedures
You might be surprised to know that LASIK was not the first FDA-approved laser vision procedure! The first laser vision correction procedure was actually PRK, a surface-based laser procedure. The first PRK was performed in 1988. However, it did not take off back then as the excimer lasers used were first-generation lasers that caused uneven ablation. Oxygen-permeable bandage contact lenses and eye drop medications – now used to prevent eye pain, swelling and cornea scarring – were also unavailable then.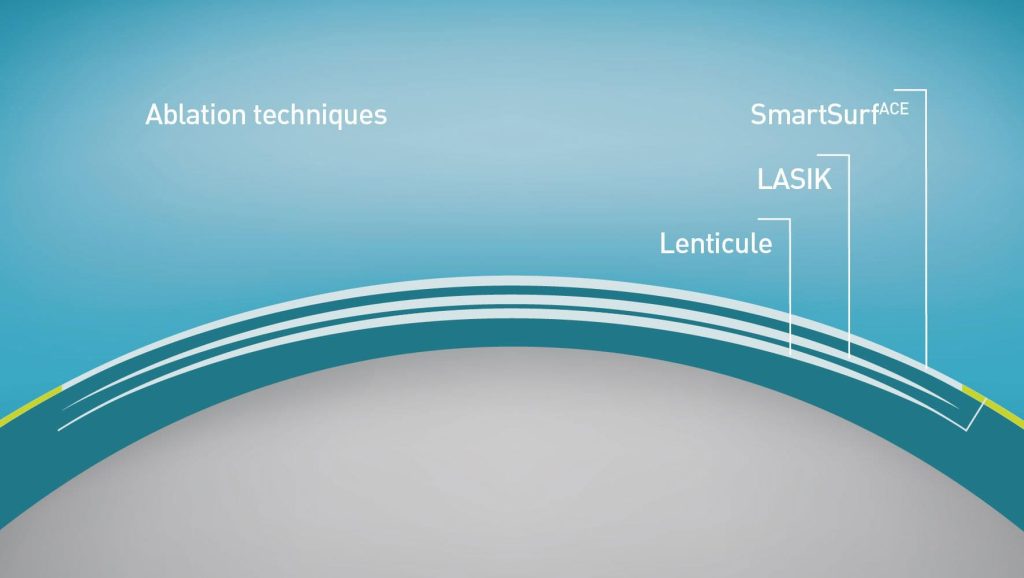 What is PRK?
PRK was the first laser vision correction procedure to enter the market. The results were accurate and safe enough to gain USA FDA approval in 1995. PRK is performed with the excimer laser, an ultra-violet light gas laser. The procedure is done with the patient lying down and uses only numbing eyedrops. The concept is simple – the surface cornea epithelium cells are removed with a mechanical scraping device, then the excimer laser beam is applied onto the exposed underlying cornea stroma tissue to re-shape its curvature, such that light rays entering the eye are bent into a new focus point to correct the refractive error.
Thanks to improvements in medical technology, modern PRK surgery is vastly different from early PRK and is now called Advanced PRK. Firstly, medications are now used to prevent potential corneal haze, along with NSAID analgesic eyedrops to eliminate post-op discomfort. Furthermore, the excimer laser sculpting process is performed with accurate eye tracking systems, and with the use of "flying-spot" laser sculpting technology, uneven ablation issues are no longer a concern. High oxygen permeability contact lenses are now placed over the treated cornea surface to greatly speed up the healing process such that in just one week, patients can see well enough to go back to work and even resume sport activities.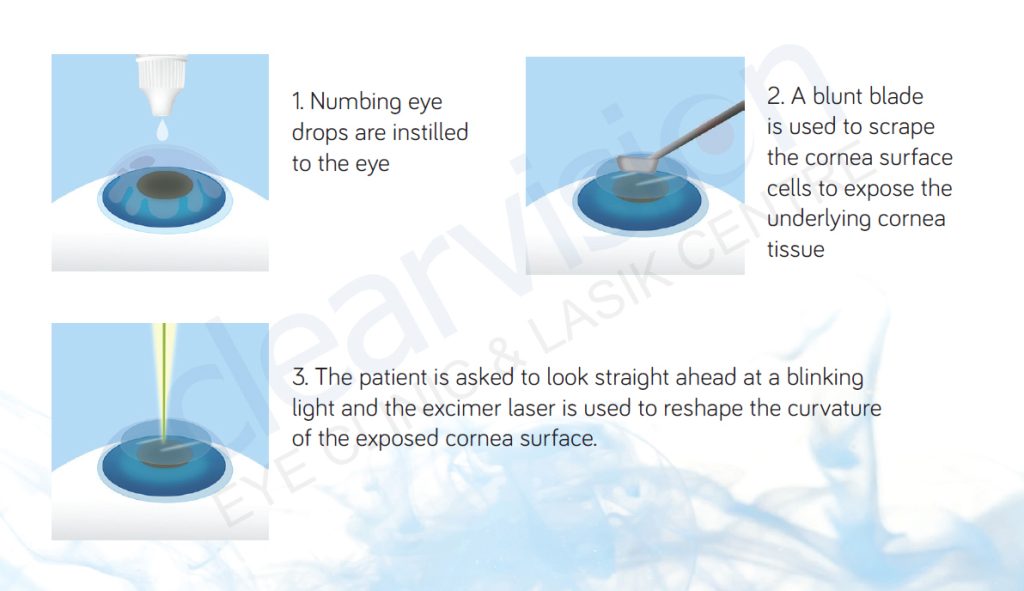 What is EpiLASIK?
EpiLASIK is different from PRK – with PRK, the surface cornea epithelium cells are removed prior to the sculpting process by mechanical scraping. But with EpiLASIK, the epithelium cells are removed in a gentler manner – this is achieved by applying a suction ring device to hold the eyeball securely in place and under pressure. Using a plastic epithelium tissue separator vibrating extremely fast at close to ultrasonic speed, the epithelium is separated from the underlying cornea stroma tissue to prepare for sculpting by the excimer laser. This translates to a faster and more comfortable healing process.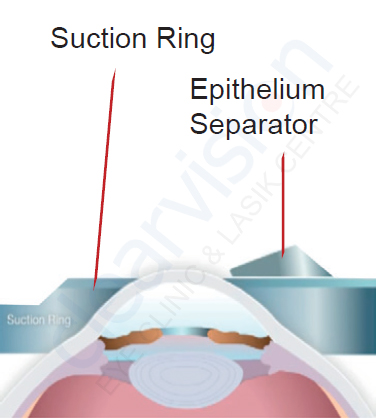 What is TransPRK?
Unlike other laser vision correction procedures including PRK and EpiLASIK, TransPRK has the benefit of having no surgical instruments touching the cornea – there is no suction ring used and no cutting of the cornea. This makes the procedure less scary and more comfortable for the patient. To the eye surgeon, there is no worry about the loss of suction ring pressure or incidence of procedure-induced flap complications, because there is no cornea flap being cut. Here, the surface epithelium cells are removed using the excimer laser itself – there are no more mechanical scrapping or suction rings involved. As with PRK and EpiLASIK, TransPRK also carries the least risk of post-procedure dry eyes.
TransPRK is a simple and seamless procedure that involves the following steps:
Application of numbing eye drops
Removal of surface epithelium cells
Reshaping of corneal curvature
Application of bandage contact lens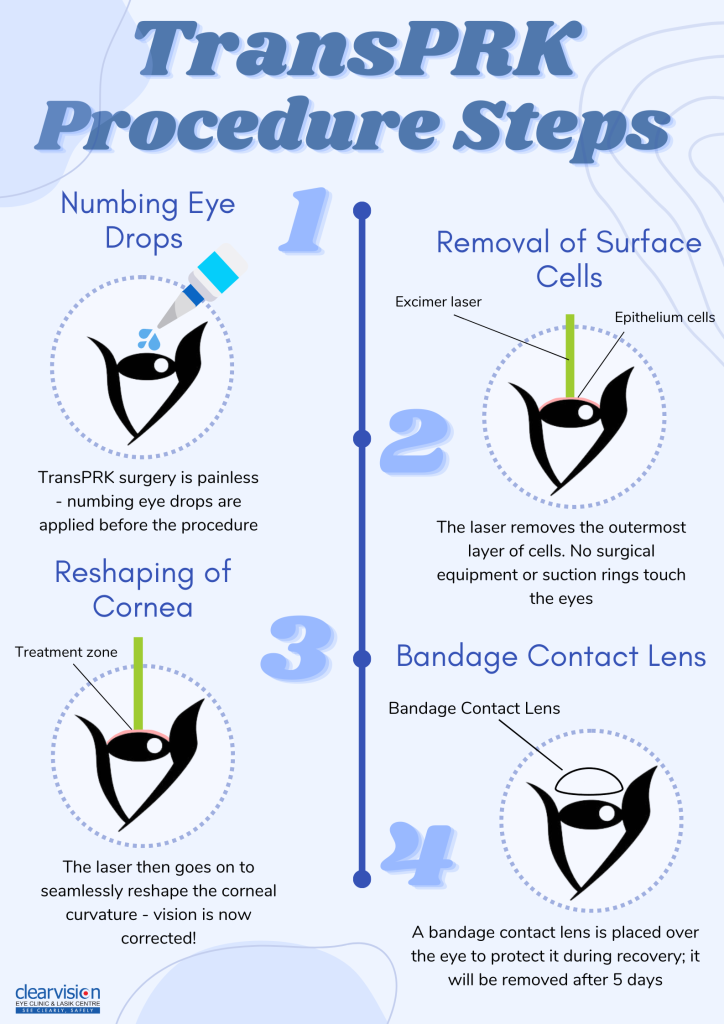 1. All you have to do is simply lie down and look straight ahead at a blinking fixation green light. There is no suction ring nor surgical instruments touching the eye.
2. The epithelium cells will be removed by the cool (the laser is not hot) ultraviolet pulses emitted by the excimer laser.
3. The same excimer laser will go on to reshape the cornea curvature to correct the refractive error in one seamless step.
4. A transparent, high-oxygen-permeability-content soft bandage contact lens is then placed over the cornea to act as an artificial corneal flap, to protect the treated surface while the epithelium cells regenerate.
5. The epithelium cells will take around 1 week to regenerate and heal, after which the bandage contact lens is removed. It is important to use the eye drop medications prescribed and wear sunglasses when outdoors in the day to ensure a successful recovery.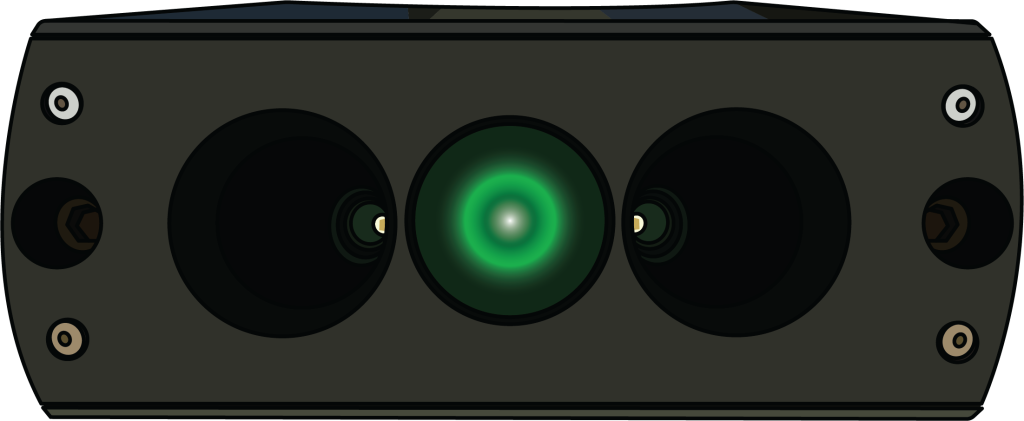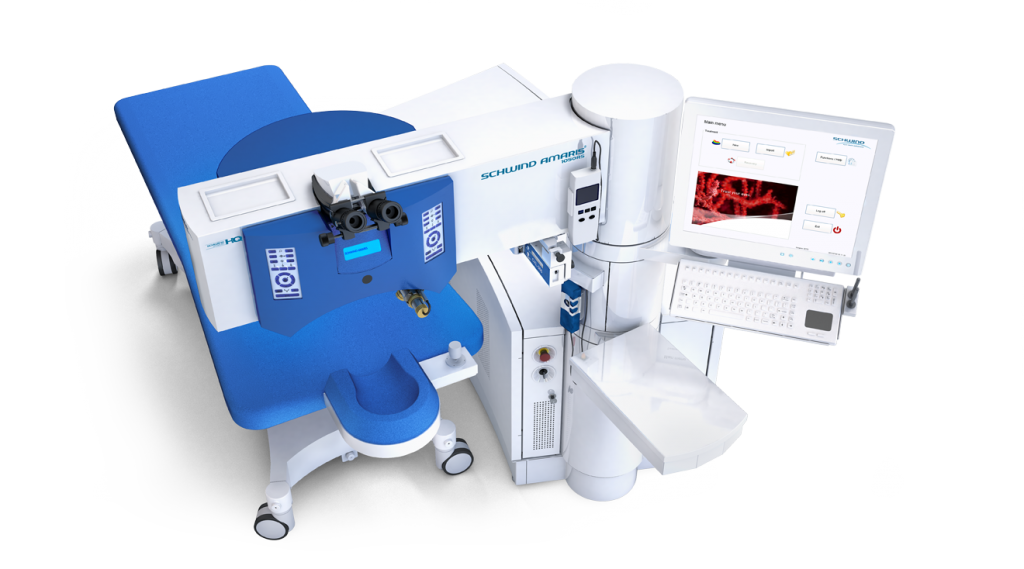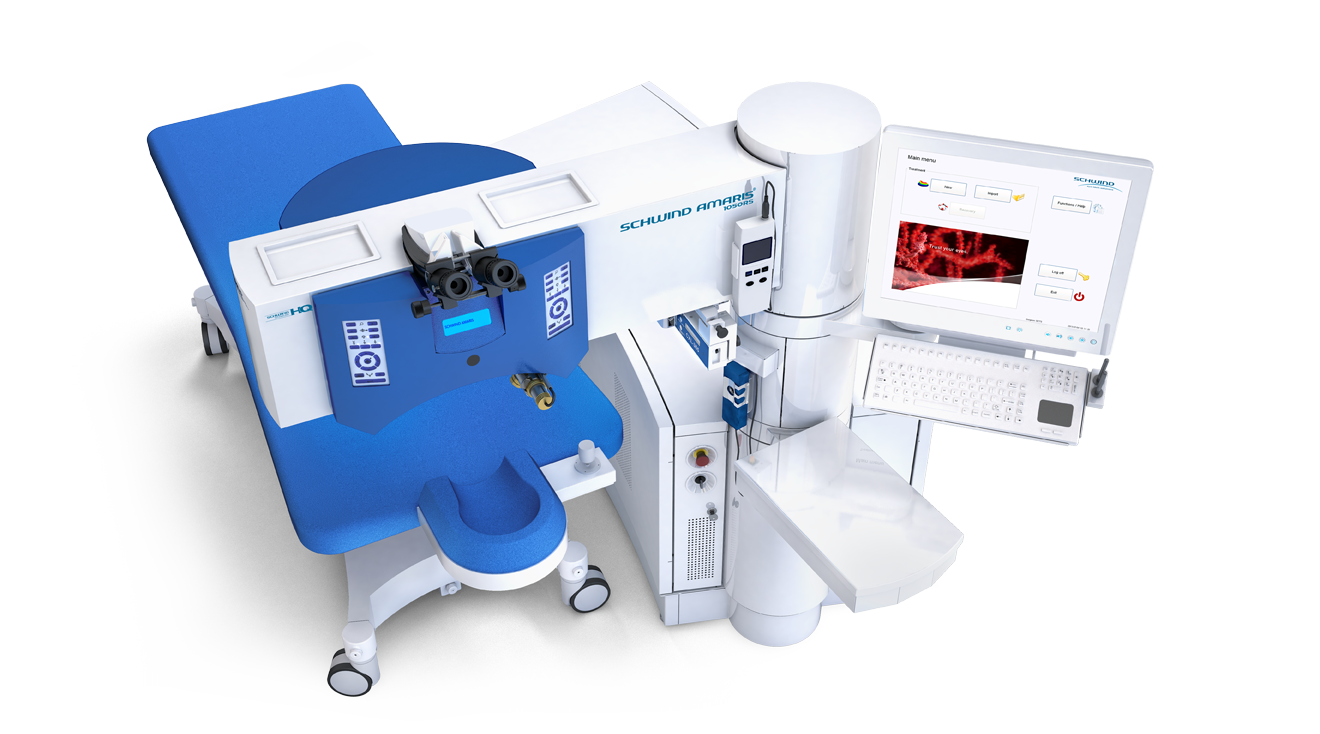 Summary of benefits of PRK, EpiLASIK and TransPRK:
1. No cutting of a cornea flap or lenticule
A major advantage of surface-based procedures (PRK, EpiLASIK and TransPRK) is that there are no cuts made to the cornea. This will come as a relief to those who have a fear of cutting their corneas, or the possible cornea flap or lenticule complications that are associated with other laser vision correction procedures.
2. Least worry of procedure-induced dry eye
If you are someone who worries about having dry eyes, you should consider undergoing surface-based procedures as there is no cutting of the cornea and thus no severing of the corneal nerve endings, which would affect tear reproduction. PRK, EpiLASIK and TransPRK are associated with the least complaints of post-procedure induced dry eyes and lowest likelihood of permanent procedure-induced dry eyes.
3. Wider range of suitability
There is hope yet if you have been found to be unsuitable for other laser vision correction procedures due to dry eyes, high myopia and/or thin corneas! Thanks to the surface-based nature of TransPRK, even if you have been found to be unsuitable for LASIK or SMILE, chances are you may still be a suitable candidate for PRK, EpiLASIK or TransPRK.
4. Great for contact sports and active lifestyles
As there is no cornea flap cut, there is no fear of any cornea flap dislodging from a finger poke injury or blunt facial trauma when participating in contact sports such as boxing or wrestling or carrying out active duties (military, firemen, athletes etc). Thus, you may participate in vigorous activities without worries!
How do I know if I am suitable for the laser vision correction procedures?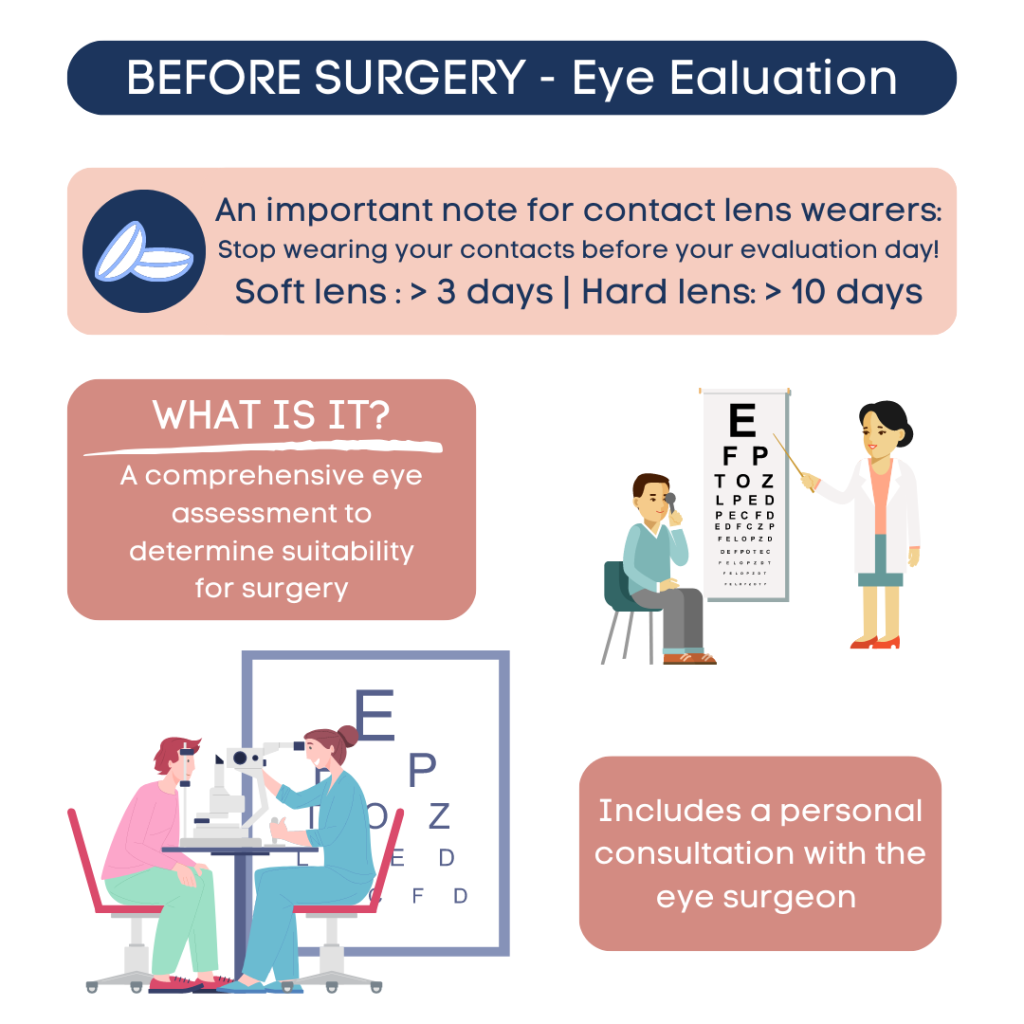 If you are considering getting rid of those glasses for good, you have to be at least 18 years old and your prescription has to have been been stable for the past two years – this can only be determined through a detailed lasik eye evaluation.
The eye evaluation includes a series of eye tests to comprehensively evaluate your refractive error, cornea parameters and eye health. If suitable, you will have a consultation with the eye surgeon to discuss your options. This is a great opportunity to address any concerns you may have with the doctor.
If you are pregnant or breastfeeding, suffering from major systemic disease causing dry eyes or eye inflammation, or have thin or irregularly shaped corneas, you may not be suitable for PRK, EpiLASIK and TransPRK procedures. Therefore it is essential that you first schedule yourself for an eye evaluation to determine your suitability for lasik surgery.
How do I prepare for the pre-laser treatment check?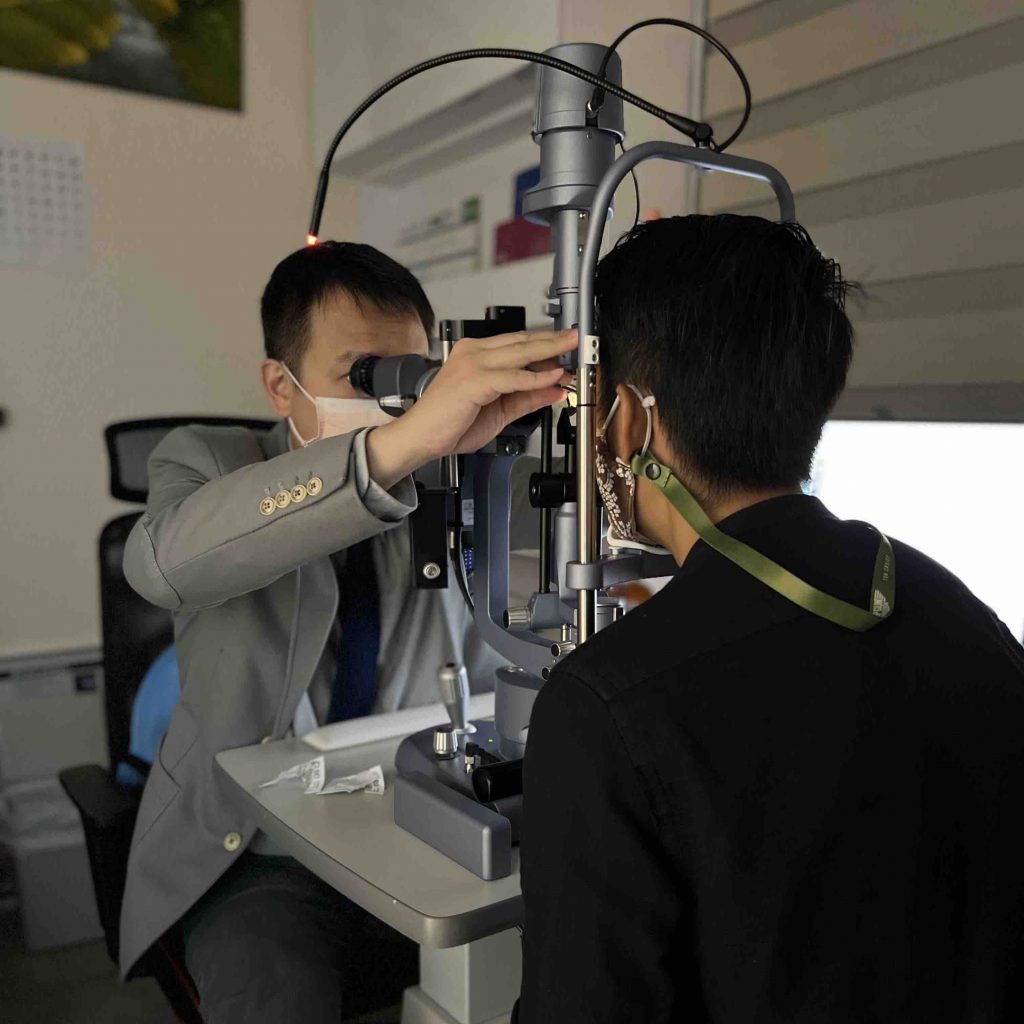 As most clinics work on an appointment-only basis, it would be wise to book an evaluation appointment with your preferred clinic or eye surgeon in advance.
Contact lenses may alter the shape of your cornea that will in turn affect the accuracy of the pre-lasik measurements. Therefore, if you are a soft contact lens wearer, you will first have to stop wearing them for at least 3 days before your eye evaluation appointment date. If you are wearing hard lenses or overnight Ortho-K contact lenses that have greater effect on the cornea curvature, you should stop wearing them for at least 10 days.
Are there any preparations that I will have to make before my PRK, EpiLASIK or TransPRK surgery appointment?
Similar to your eye evaluation, you will also have to cease the wearing of your soft lenses for at least 3 days (and at least 10 days for hard lens) in preparation for surgery. A few other things that you will have to take note of for the procedure are:
You will have to stop wearing make-up a day before and on the day of surgery itself
Good hygiene is important – have a full shower before coming for surgery
Please do not wear any perfumes, deodorants, colognes or aftershave on surgery day
You will be able to see well enough after the procedure to go home, but not well enough to drive
If you are required to undergo an additional cornea cross-linking treatment to strengthen the cornea, you will have to stop consuming Vitamin C supplements a week before.
Also, you will need to take some time off to recover after the surgery – expect to set aside one week from your work and exercise to rest at home (MC will be provided).
What are some of the things that I will have to take note of post-operatively?
It takes around one week for the surface cornea epithelium cells to heal, during which your vision will be pretty hazy. Hence, you should stay at home to rest and apply the antibiotic eyedrops according to the prescribed schedule.
To minimise the risk of infection, you should not be wearing any eye make-up until the bandage lens is removed (within one week). In addition, do maintain good eye hygiene such avoiding dust and dirt, washing your hands before applying the eyedrops, and avoiding touching your eyelids. Fortunately, serious infection is rarely encountered if good hygiene is observed.
Once the bandage contact lenses are removed (typically on the fifth day), you can resume your regular activities including computer work and light exercise. However, you must be diligent to continue applying the prescribed anti-corneal haze steroid eyedrops and wear sunglasses whenever you go outdoors in the sun for the at least 1 month.
How long will it take for my vision to recover?
You might be pleasantly surprised to learn that your vision will be quite clear immediately after the procedure. However, it is not advisable to drive in the first week. Almost all patients recover well enough to go back to work after a week of rest. You can also fly without worry. You can use your phone and computer after the procedure, but usage will be limited and discouraged as your vision will be fuzzy for the first week while the surface epithelium cells heal.
There is a healing curve that depends on the refractive power being corrected. Full visual recovery is usually achieved within 2 – 3 months. However, those with high myopia or astigmatism may take 3 or more months to achieve full visual recovery. Most patients are discharged from follow-up reviews after the 3rd month.
Additional things that you will have to take note of:
Can my degree come back after the procedure? Can I undergo the procedure again?
Having your degree return is very unlikely with modern laser vision correction. If it does happen, it is generally limited to low powers of less than 1 dioptre (or 100 "degrees").  In that case, enhancement surgery can be considered, but only after a waiting period of at least six months to allow for a full and complete recovery of the eye. All enhancement surgeries are also subjected to the pre-condition that the residual cornea thickness is thick enough to allow it.
Can I undergo the procedure if I have both myopia and "lao hua" i.e. presbyopia or middle-aged onset far-sightedness?
Yes, you can! "Lao hua" or presbyopia is a middle age-related condition that usually affects people above the age of 40, due to age-related weakness of the eye focusing muscles and loss of the crystalline lens elasticity. For these patients, a strategy known as "mono-vision treatment" or "blended vision treatment" is employed to allow clear vision for both distance and near vision. The principle is to correct your dominant eye to see clearly for distance and to leave a small amount of myopia in the other eye to compensate for the presbyopia.
Can I still wear cosmetic contact lenses?
Yes, cosmetic contact lenses may be safely worn after your PRK, EpiLASIK or TransPRK procedure after a month of recovery.
What about future cataracts and other eye diseases?
Laser vision correction only corrects the eye's pre-existing refractive error, and will not cause cataracts or increase the risk of cataracts or other eye diseases. If you do develop cataracts when you are older, you can still go for cataract surgery with no fear of increased risks. The only difference is the dioptric power of the lens implant to be implanted, but this will be calculated using computers during the pre-cataract evaluation.
What is Corneal Cross Linking (CXL)? Can I still undergo vision correction if I have thin corneas and/or high myopia or astigmatism?
If you have thin corneas and/or high degrees of refractive error, your eye doctor may advise you to undergo Cross-Linking (CXL) treatment at the same time as lasik surgery, to strengthen the cornea and prevent future issues related to cornea weakening.
Cross-Linking (CXL) treatment is a cornea strengthening procedure using Vitamin B2 solution dripped onto the cornea, followed by an ultraviolet A (UVA) light shone onto the cornea for a set duration. This makes the collagen fibres in the cornea sticky and strong, thus greatly reducing the risk of future cornea weakening that may lead to regression of the treated power, and also a medical condition known as cornea ectasia, where the cornea curvature becomes progressively irregular.
CXL is a simple 2-step, 3-minute procedure performed right after your TransPRK surgery:

Step 1
Riboflavin (Vitamin B2) eye drops are applied to the cornea and left to soak into the cornea for 1 minute.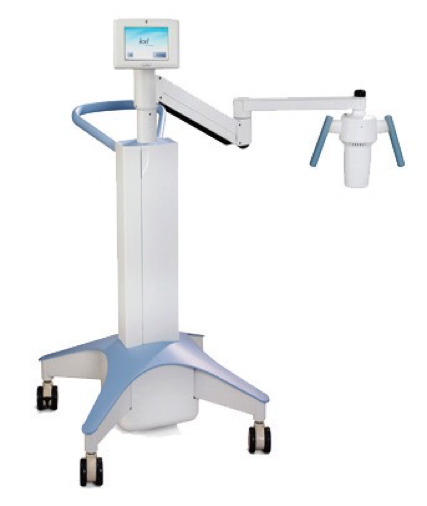 Step 2
The riboflavin-soaked cornea is illuminated with ultra-violet A (UVA) light using technology of the Avedro KXL® System, and this treatment cross-links the collagen fibers within the cornea, thus strengthening the cornea.
How much do PRK, epiLASIK and TransPRK procedures cost in Singapore?
Depending on your doctor or clinic of choice, the cost of the laser vision correction procedures can differ greatly. Generally, the cost of the pre-lasik eye evaluation in Singapore ranges from $5 to $300. As for surgery itself, PRK, EpiLASIK and TransPRK typically range from $3,500 to $7,000 for both eyes.
We would advise you to clarify the procedure cost before booking an appointment. You should also clarify if the surgery price includes the initial post-op medications and first few follow-up reviews. At Clearvision, our surgery prices include the initial set of medications, as well as 3 months of follow-ups.
Can I claim from my Medisave, Medishield or insurance?
TransPRK surgery is not Medisave claimable as the surgery falls under the category of an elective or aesthetic procedure.
However, do not that some clinics including ours, offer 6 or 12 months 0% interest instalment plans using credit cards from certain banks. Do check with the clinic directly if you are considering this financing option.
Key Takeaways
In summary, opting for surface-based laser vision procedures such as PRK, EpiLASIK and TransPRK eliminates the risk of flap-related complications. You will also have the least fear of dry eyes after the procedure, and can take part in contact sports with no fear of sustaining corneal flap injuries.
If you are considering undertaking this journey towards clear vision, you should certainly carry out careful research to find out which laser vision correction procedure best suits you. Remember that each procedure has its own set of pros and cons. Therefore, it pays to put in the effort to be an informed patient – I hope that this article has contributed to that effort!
You will need to come down for a suitability evaluation to determine if you are suitable for TransPRK surgery.
If you would like to book an evaluation appointment with us,
📞  Call us at 6733 3316
📱 WhatsApp us at 8383 7989
✉️  Email us at doctor@clearvision.com.sg
🤳 Message us on Facebook
🤳 Message us on Instagram
The evaluation costs $37.50 and will take around 1 – 2 hours.
It will include a series of eye tests as well as a personal consultation with your lasik surgeon.
Suitability Evaluation Guide
Learn more about what to expect during your suitability evaluation.
Our suitability evaluations typically take place during these times, subject to availability –
Mondays
2:30 PM – 3:30 PM
Tuesdays

9:00 AM

2:30 PM – 5:15 PM

Wednesdays
9:00 AM
Thursdays
2:30 PM – 3:30 PM
Fridays

9:00 AM – 11:00 AM

2:30 PM – 5:15 PM
Just let us know which days and times work for you and we'll do our best to accommodate.