This article is meant for those who are suspecting that they are suffering from cataracts. There is a common conception that a sign of cataract would be a visible, and almost white cloud on the surface of the eyeball. However it is good to note that only doctors would be able to make diagnosis and it would not be possible to draw conclusive results when you take a look at your eye on your own.
Other than the obvious white cloud over the eyeball, people who suffer from cataract will often begin to see colours with less than its original intensity and vibrancy. In addition, sharp images will appear blurry and clouded. This group of people will request for their glasses or contact lenses to be changed to that of higher powers more frequently. These are early signs of cataract that you should be looking out for especially if you are above the age of 55 years old.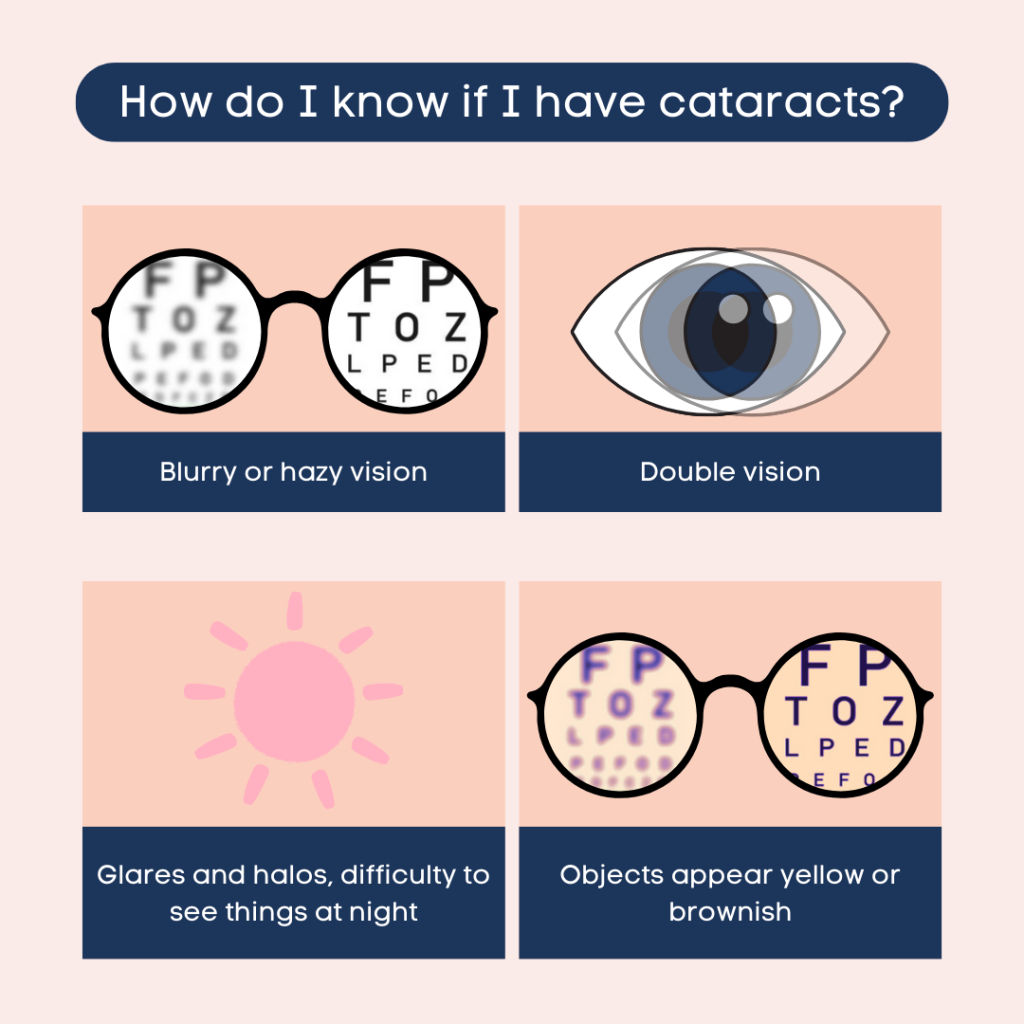 Surprisingly, it has been found that children or younger adults may also be at risk of developing cataracts. Some may be born with the cataract while some may develop it as a complication of the lifestyle disease, diabetes. Others may be at higher risk of having cataract due to an eye injury.  For the older group of patients, the symptoms of cataract may develop as a consequence of prolonged and excessive exposure to Ultraviolet rays (UV rays) from the sun's harsh beams of light especially during noon hour. Otherwise, cataract is actually considered to be a natural part of ageing.
There are preventive tips to follow religiously if you would hope to delay the process of developing cataracts. For a start, it is necessary to wear sunglasses that are specially coated to prevent harmful UV rays from entering the eyes. Next, it is crucial to maintain a balanced diet and healthy eating habits. This will minimize the chances of being diabetic which eliminates the chances of developing cataract by this avenue. Finally, if you are already suffering from diabetes, it is advisable to curb its progression and deterioration by seeking professional medical advice and treatment. This is to prevent the medical condition from advancing into its late stages where it can start to impair your eyesight.
Why are these eye cataract symptoms? Imagine that the cataract is a white cloud that is positioned right in front of the eyeball. It will prevent sufficient light from entering the eye and hence things start to look hazy and almost blur. This also means that even if you increase the power of your glasses for myopia, it definitely does not cure the root medical problem. The prevalent issue of cataract being treated at its last stages can lead to blindness in patients. One can be suffering from cataract for months to years before his quality of life may be compromised. One misconception is that one would wait for the cataract to 'ripen' before it is considered severe enough to seek medical attention. However, it is almost unsafe to do so and corrective procedure can be done on the patient once the cataract is found.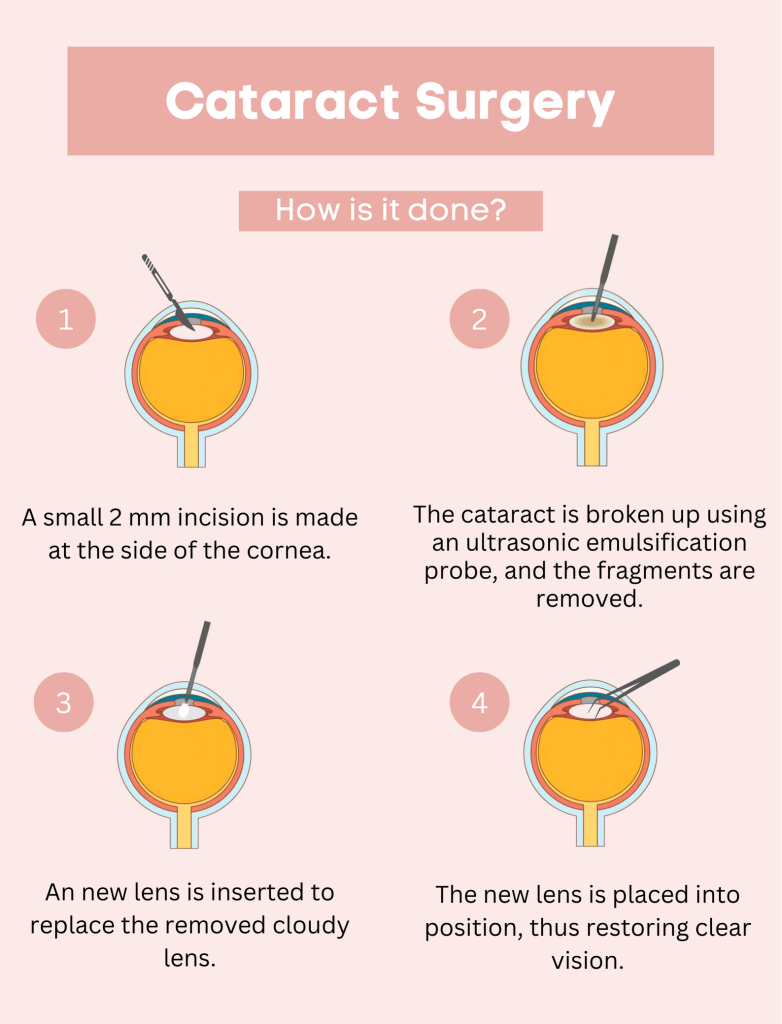 The corrective procedure would require an incision for the cataract to be broken apart and removed. An artificial lens, also known as Intraocular lens would be insert in place of the lens that has been removed. At the present moment, there are no other medical solutions for this condition. There is no form of diet or laser correcting method to invade and clear the cataract that has been proven to be effective or existent.  
To sum it all up, it is encouraged that you go for regular eye checkups to ensure and maintain good eye health. It will also be extremely advantageous in the long run if you sound out any discomfort or any changes in your quality of vision. Your input can be instrumental in aiding the doctors to make early diagnosis about your condition.