Video Game Vision Syndrome: Symptoms and Treatments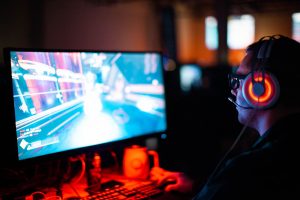 Now that smartphones are more or less available anywhere, computer screens became the least of our problems. We are now highly susceptible to the negative effects of screens, and the amount of time that most of us put into our gadgets is not helping with the situation. As a result, video game vision syndrome is becoming more and more common. Unlike computer vision syndrome that is usually caused by work-related tasks, video game vision syndrome is caused by mobile video games.
What are the Symptoms of Video Game Vision Syndrome?
Video game vision syndrome is a combination of eye and vision issues that include, but not limited to eye fatigue and eye strain caused by overexposure to video games, which subsequently leads to neck and shoulder pain, headache, and blurry vision.
What Causes Video Game Vision Syndrome?
Video game vision syndrome is a modern-world syndrome that is caused by mobile screens like smartphones and tablets. As screens became widely accessible, so did video games.
Video games require you to commit a significant amount of time to complete it, and wanting to achieve new high scores will not help with the situation, as it leads to prolonged gameplay. Prolonged gameplay—the leading cause of this syndrome—without sufficient breaks can cause eye fatigue and eye strain, causing video game vision syndrome in the long run. Don't be alarmed, but this applies to adults and children alike.
Is The Prevention Of Video Game Vision Syndrome Possible?
Fortunately, yes. It starts from enforcing good habits or practices when playing video games.
i. Practice Moderation
Practice self-control. Reducing your playtime counteracts the leading cause of this syndrome. The key is to start from young, and this also applies to those with children. We often see children being glued to their parents' smartphones for long hours, and having video game vision syndrome at such a young age is devastating. Imposing a little restriction can go a long way.
ii. Take Frequent Breaks
Just like any other activity, prolonged usage will cause fatigue. Adopting the practice of taking frequent breaks will allow one to both enjoy their favourite games and not get burned out.
iii. Make Use of Glare Reduction Technology
Most gadgets come with a brightness reduction function. While it does make the image clearer and nicer, having it set too high will cause glaring, which strains the eyes and eventually causing damage. Alternatively, there are various mobile apps that can help reduce glaring as well.
What are the Treatments Available for Video Game Vision Syndrome?
If all else fails, there's always vision correction procedures. With the advancement of technology, vision correction procedures do not require surgical devices anymore, making it safe and non-invasive.
One that we recommend is Safe Sight TransPRK, a fully laser, non-invasive and safe procedure that uses the Schwind Amaris 1050RS laser – excimer laser machine that's equipped with a zero latency eye tracker. As video game vision syndrome has similar symptoms with computer vision syndrome, this treatment is viable.
If you or someone you know are experiencing such symptoms and would like to know more, get in touch with our experts. All of us at Clearvision will be more than happy to help you out.