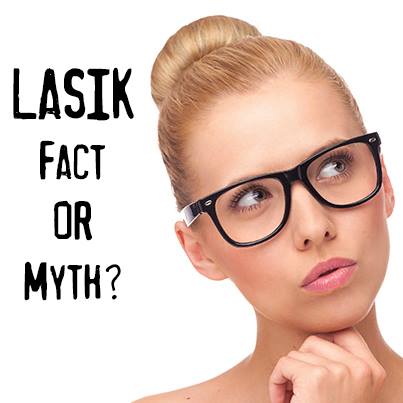 Myth #1: All LASIKs are the same.
Fact: It is not commonly known that there are 2 different ways to correct your vision – standard LASIK (flap-and-zap) and epi-LASIK (epi is short for epithelium). During LASIK, a cut is made across the cornea and a cornea flap is created. The flap is then lifted, and laser correction will be applied to the underlying cornea tissue. Epi-LASIK, on the other hand, is a surface ablation method where there no cut and no flap being created. Instead, the uppermost surface cells are removed and a high oxygen content contact lens is placed on the cornea for around 5 days in place of the cut flap. After 5 days, these oxygen permeable contact lens will be removed.
Myth #2: LASIK is scary as my eyes have to be cut.
Fact: With advances in technology today, this is no longer true with epi-LASIK where no cut is made in the cornea. There are also no injections are given; only anesthetic eyhe drops will be administered. Because there is no cut made to your cornea, epi-LASIK does not instill the fear of cutting your cornea.
Myth #3: My eyes will get very dry permanently after LASIK.
Fact: Developing a permanent dry eye condition can be a possibility when doing standard LASIK as cornea nerves are severed during the cutting of cornea. However, this is not the case with the surface-based epi-LASIK procedure as no cornea nerves are being severed.
Myth #4: My eye power must be stable before doing LASIK.
Fact: It is a common misunderstanding that your eye power must be 'stable' before doing LASIK. While this is true for younger patients (below age 24), patients who are 24 years old and above already have stabilized eyesight. Any variations in degree is likely due to the over-activity of focusing muscles that can be caused by stress or prolonged near-vision work. During the eye examination, there will be a special eye test conducted to determine the true power of your eyes. Hence, normal fluctuations in eye power does not reflect true power increase.
Myth #5: There is a high risk of going blind after LASIK.
Fact: The chances of going blind after epi-LASIK are extremely slim. The risk of serious complications such as the loss of best corrected vision acuity is less than 1% while the risk of experiencing glare and halos is less than 5%, and such conditions typically resolves over time. The risk of total blindness, while theoretically possible, is extremely rare. With the advanced medical expertise in Singapore, an in-depth pre-LASIK evaluation which involves a detailed examination of any active eye diseases will reduce this risk further.