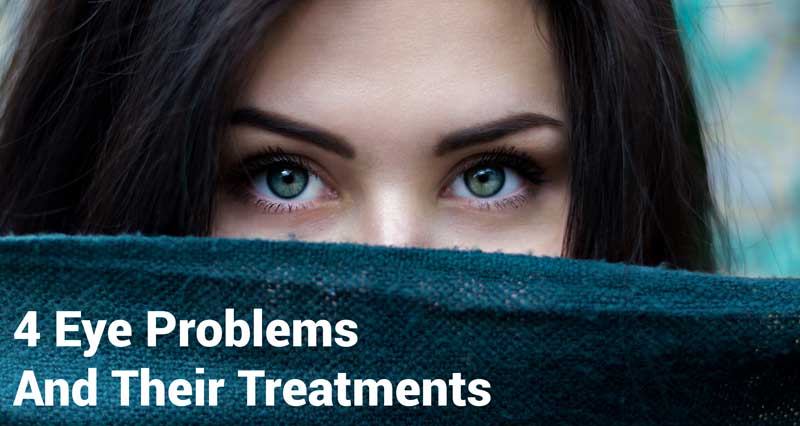 There are various eye issues that people experience but do not talk about much. Here are 4 of the most common, along with their methods of treatment.
1. Refractive Error
When the light entering the eye is not focused properly onto the retina, this results in blurred vision. They include:
Nearsightedness (myopia) – when far-away objects look blurred
Farsightedness (hyperopia) – when close-up objects look blurred
Astigmatism – vision is blurred because the cornea is not shaped well to direct light onto the retina
Presbyopia – farsightedness caused by the loss of elasticity of the eye's lens due to aging
Refractive errors can usually be corrected with eyeglasses, contact lenses, or laser eye surgery. For glasses and contact lenses, you can visit your preferred optometrist for a consultation. However, for LASIK laser eye surgery, you have to visit your eye doctor for a consultation to determine whether you are suitable to undergo such a procedure.
2. Cataract
Cataract is a condition with blurred vision due to clouding of the lens. It is the most common cause of vision loss in people over 40 years of age. It is the leading cause of blindness worldwide. This decrease in vision usually develops slowly, and can affect one eye or both eyes. People with cataract often report seeing 'haloes' around objects that they are looking at, especially at night.
When symptoms start to appear, you can improve your vision for a while using new glasses, strong bifocals, appropriate lighting, magnification or other visual aids. When the condition has progressed enough to seriously affect your vision and daily life, you can consider surgery. Cataract can be removed by surgery that replaces the lens with an artificial lens.
Many people have the wrong perception that poor vision is an unavoidable part of aging. However, cataract surgery is an easy, relatively painless and highly successful operation to help restore your vision. During surgery, the surgeon will remove your clouded lens and usually replace it with a clear, plastic intraocular lens (IOL).
3. Glaucoma
Glaucoma is a group of related eye disorders that leads to damage of the optic nerve which transmits information from the eye to the brain. It is a common cause of blindness, particularly in diabetic patients.
Normally, Glaucoma has no symptoms in its early stages. So, by the time you notice something is wrong with your sight, the disease would have progressed to the point that irreversible vision loss has already happened.
Glaucoma is a disease that can usually be controlled, even though nerve damage and loss of vision from the disease cannot usually be reversed. Treatment may involve the use of eyedrops medications, laser, incisional surgery, or pills (rarely). Treatment can prevent further nerve damage and visual loss by making the intra-ocular pressure normal.
4. Dry Eye Syndrome
Dry eye is a lack of proper tears, usually caused by a problem with the tear ducts or eyelids, or certain medications. It can cause pain and blurred vision.
For now, there is no cure for dry eye syndrome, but numerous medical treatments are available. Treatment depends on the severity of the condition. While some people may only require a humidifier or occasional eye drops, others may require surgery. Over-the-counter lubricating eye drops, also known as artificial tears, may help relieve dry eyes. If you wish to learn more, get a professional consultation from experienced eye doctor or call us at +65-6100 2020 to book an appointment today!