Corrective Eye Surgery
In recent years, there have been many advancements in laser eye surgery. Most of these vision correction surgeries involve reshaping the cornea to help the eyes focus light accurately on the retina. LASIK eye surgery, for instance, involves reshaping the tissue underneath the cornea by making an incision in the cornea to create a flap. On the other hand, LASEK does not require cutting of the cornea.
No Flap vs. Flap Surgery
The main difference between these two types of refractive laser eye surgery is the creation of a corneal flap. LASIK and IntraLase are types of flap surgeries, while LASEK, epi-LASIK, and PRK are known as no flap surgeries. While LASIK is more popular due to the quick recovery time, more people are beginning to opt for no flap surgeries such as epi-LASIK or TransPRK.
No flap surgeries are deemed as a safer alternative to flap surgeries because it eliminates the risk of potential flap complications. In addition, surgeries like epi-LASIK and TransPRK are suitable for those with thin corneas and high myopia. A minimally invasive LASEK surgery called Safe Sight TransPRK is available at Clearvision Singapore.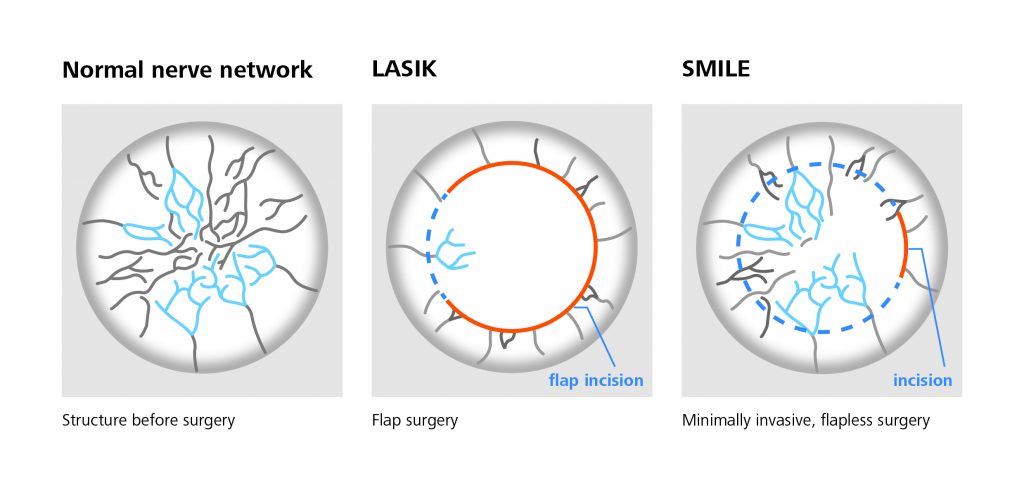 What is Safe Sight TransPRK?
Safe Sight TransPRK (transepithelial photorefractive keratectomy) is a laser eye surgery procedure that is a step above epi-LASIK. It has similar benefits to epi-LASIK, with fewer risks involved. As a form of LASEK surgery, TransPRK does not involve cutting a corneal flap, which preserves the integrity of the cornea. It is the safer option because unlike epi-LASIK, TransPRK is a non-invasive and surface-based treatment method for vision correction.
How Does Safe Sight TransPRK Work?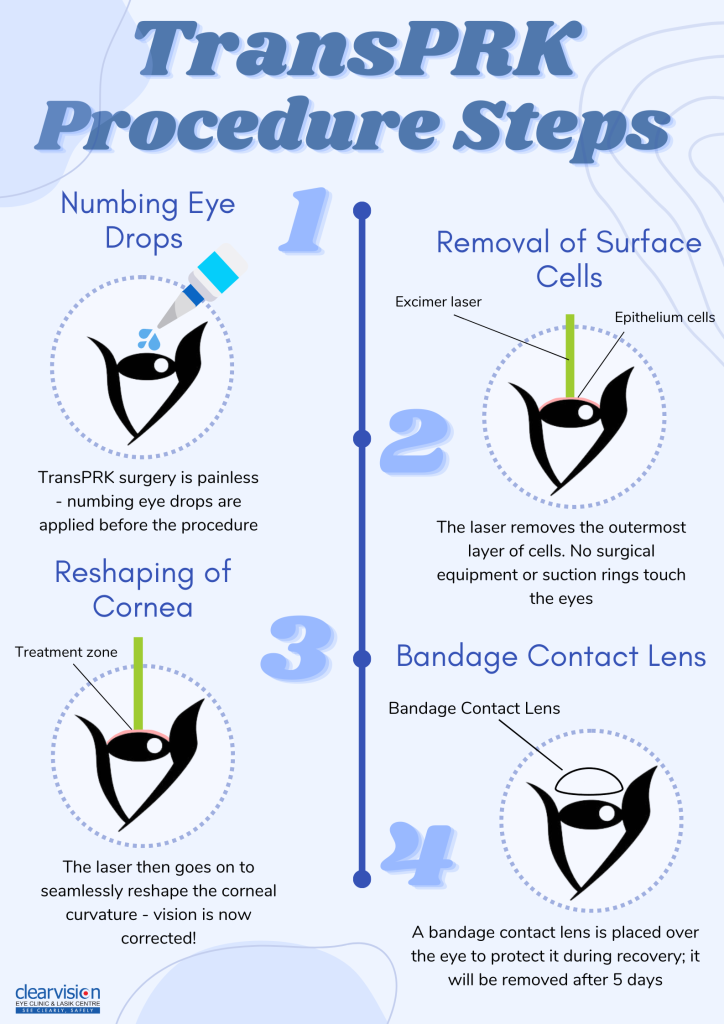 Safe Sight TransPRK is the quickest vision correction procedure, taking only 3-5 minutes per eye. It is a simple and fast procedure that utilises the high-tech Schwind Amaris 1050RS excimer laser – the world's fastest laser machine. This machine is equipped with a zero latency tracker, allowing for safe and accurate treatment.
The procedure does not involve any surgical instrument touching the eye. First, the Schwind Amaris 1050RS laser starts off by removing the epithelium cells. Next, the laser reshapes the curvature of the cornea in a single step to correct refractive power. Once the cornea has been reshaped, a soft contact lens acting as an artificial cornea flap is placed over the cornea to protect it during the healing process.
It takes about 3 to 5 days for the epithelium cells to regenerate. After 5 days, the contact lenses are removed. To facilitate the healing process, patients are required to keep away from strong sunlight and use prescription eye drops for 6 to 10 weeks after the procedure. Full visual recovery typically takes about one to three months.
Benefits of Safe Sight TransPRK
Besides being a completely touch-free and non-invasive surface-based procedure, there are also other advantages of choosing Safe Sight TransPRK:
Simple and fast one-step procedure, taking only 3-5 minutes for each eye.
The absence of a corneal flap eliminates any flap-related medical condition.
Suitable for those with an active lifestyle, particularly those participating in contact sports.
A safer option for those with high-risk jobs such as air force pilots, military personnel, navy divers and more.
An alternative for those who are not suitable for LASIK due to a thin cornea and high myopia.
Minimal risk of dry eye, a common side effect of LASIK eye surgery.
Do you have any questions regarding Safe Sight TransPRK or laser eye surgery? Learn more about Safe Sight TransPRK or contact us and we will be happy to address your concerns.
The evaluation costs $37.50 and will take around 1 – 2 hours.
It will include a series of eye tests as well as a personal consultation with your lasik surgeon.
Suitability Evaluation Guide
Learn more about what to expect during your suitability evaluation.
Our suitability evaluations typically take place during these times, subject to availability –
Mondays
2:30 PM – 3:30 PM
Tuesdays

9:00 AM

2:30 PM – 5:15 PM

Wednesdays
9:00 AM
Thursdays
2:30 PM – 3:30 PM
Fridays

9:00 AM – 11:00 AM

2:30 PM – 5:15 PM
Just let us know which days and times work for you and we'll do our best to accommodate.