With myopia rates skyrocketing around the world and laser vision correction technology constantly evolving, more and more people are turning to lasik surgery to free themselves from the hassle of wearing glasses and contact lenses.
And with the minimum age that one can undergo lasik being 18 years old, it's no surprise that students and recent graduates make up a large portion of that demographic. However, for these younger patients, the decision to undergo lasik surgery is often one that involves their parents, especially if they are younger than 21 years of age, where their parents' consent is required to proceed with surgery.
If you're reading this, chances are your parents have some doubts about lasik surgery, from stories they've heard or outdated knowledge about the procedure. So to help ease their concerns, we've laid out the facts and debunked common misconceptions about lasik that your parents, as well as many others might still hold onto.
Here are some concerns your parents might have brought up about lasik:
Parents:
"You're too young to do lasik!"
Anyone above the age of 18 can undergo lasik, as long as their prescription has not changed in the past 6 months. It is typically at this age that their eyes have fully matured and their prescription has stabilised. As long as they're eligible and their degree is stable, there should not be cause for concern regarding the safety and efficacy of the surgery.
Parents:
"Lasik is too expensive!"
You can actually save money by having lasik, especially if you are a contact lens wearer! The cost of contact lenses and glasses builds up over the years and can turn out to be much more expensive than lasik surgery in the long run. For example, over a period of 20 years, a user of monthly astigmatism contact lenses can spend almost 6 times more than if they had instead undergone lasik surgery just once.
The table below compares the cost of a one-time lasik surgery with the cost of wearing contact lenses over a period of 20 years.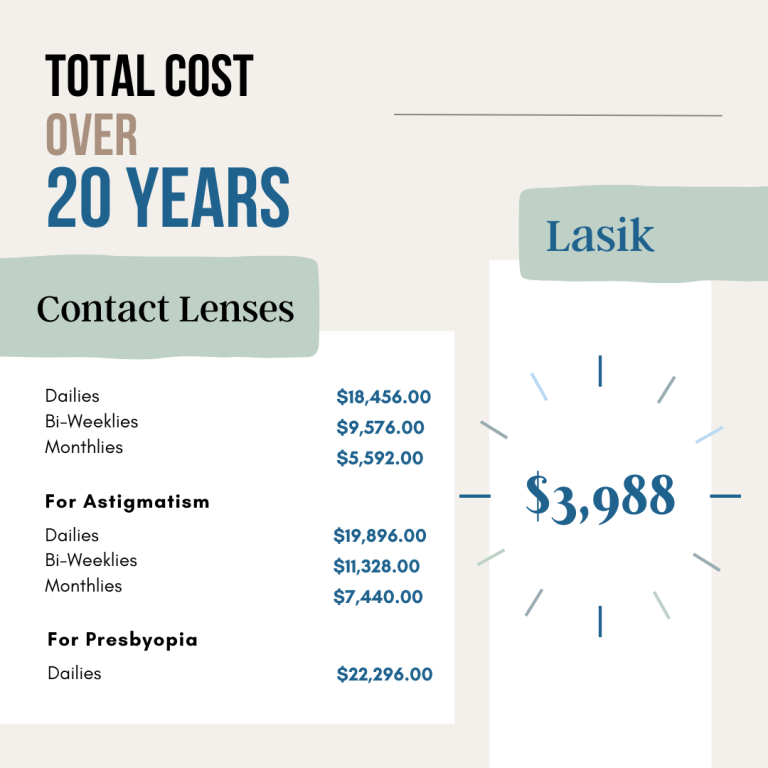 Having said that, we fully acknowledge the fact that lasik surgery is indeed a costly one-time expense. Thankfully, at most clinics you can pay for the procedure in instalments which is a huge help for younger patients who may be paying for themselves.
Paying by Instalments:
Parents:
"Lasik is dangerous!"
The idea of lasik that most parents have is a scary one that involves blades, a lot of risk, and pain. This is unfortunately because the technology that was available when vision correction surgery was first introduced in the early 1990s did not provide nearly as safe and seamless a lasik surgery as as what today's technology provides. Lasik has come a long way in its safety and efficacy thanks to major technological advancements. Today, lasik procedures do not involve any blades, and minimally-invasive procedures such as TransPRK and SMILE do not even involve the creation of a corneal flap. Having no corneal flap cut means that patients do not have to worry about getting dry eyes from lasik surgery, or corneal flap related complications.
Clearvision was founded in 2001, and since then we have come across a multitude of both rational and irrational fears about lasik that our patients have held onto. And with our younger patients, we came across an interesting observation – a common source of their fears came from a horror movie scene – Final Destination 5. In this graphic scene, one of the characters goes for lasik surgery but ends up dead by the end of it! We watched this notorious horror scene and found 5 crucial inaccuracies about lasik that it portrayed:
Your head will never be clamped down or "trapped"

You will never be left alone in the operating room during surgery

There will never be any water dispensers or precariously placed cups of water in the operating room

The laser is not a scary red beam and is not able to burn through skin or eyes

The laser continuously tracks your eye movement and shuts off the moment your eye moves out of position
Parents:
"What if you go blind from lasik!"
You will not go blind from having lasik.
Clearvision has operated on tens of thousands of eyes with no incidents leading to blindness. If anything,
eye infection during recovery is the only real cause of any form of complications that can lead to visual impairment. That being said, it is very rare and if infection does occur, it is typically minor. As long as patients adhere closely to our post-operative instructions, they will have a good recovery.
Parents:
"Even lasik surgeons still wear glasses!"
Believe it or not, plenty of eye doctors have done lasik themselves, including Clearvision's very own.
In a recent study in the US, it was found that out of 250 practicing lasik surgeons surveyed, over 60% of them had undergone lasik surgery themselves, and more than 90% of them had also recommended the procedure to their families.
Read more about lasik surgeons who have undergone lasik themselves!
Parents:
"Lasik will be painful"
The procedure is actually painless. Numbing eye drops will be applied to your eyes before surgery starts, so you will not feel any pain.
Parents:
"Do you even know which type of lasik is best?"
Everyone's eyes are different, and so we might only be eligible for certain kinds of lasik. We also all lead different lifestyles, so certain types of lasik might suit our needs better. For instance, we might not be able to afford many days off work, or we might take part in contact sports. Choosing the right procedure can be difficult, and that's why we've put together a lasik comparison table to help with the decision making process.
Here's a comparison table that touches on key the concerns many of our young patients have when deciding which procedure to go for.
And if you'd like to read more about how the different procedures compare, you can check out our comprehensive vision correction comparison table here:
Parents:
"Lasik is unnecessary! Glasses/contact lenses are just fine."
You probably already have your own set of reasons for why you're ready to say goodbye to glasses/contact lenses.
Here are some of the most common reasons why our patients have decided to go for lasik:
Practical and safety reasons:
I play contact sports

I get headaches from wearing glasses/contact lenses

I do not want to be dependent on glasses/contact lenses to function

I have gotten infections from using contact lenses

Contact lenses have made my eyes very dry
Inaccurate Prescriptions:
Many might not be aware of this, but there's a good chance your lens prescription is inaccurate. Some of us have gotten so used to our current prescriptions that we don't notice it has actually changed. And even if we've been going for our annual eye checkups, the prescription we get from our optician can be under or over corrected. Our glasses might also be ill-fitting, which will also affect our quality of vision. As a result, many of us end up straining our eyes more than we should. This causes eye fatigue and even headaches. 
Undergoing vision correction surgery eliminates these uncertainties and annoyances, because all you'll need in order to see clearly are your eyes alone!
Lifestyle reasons:
I look better without glasses

Putting on contact lenses is an inconvenience

It's annoying when my glasses fog up

I can't see well in the rain with my glasses on

Travelling with contact lenses is very troublesome
It's very easy to forget how life was like pre-myopia, especially since most of us have lived this way for a large part of our lives. Only after having lasik done, do patients they realise how much they had been held back by glasses and contact lenses.
We hope that these reasons will help allay your loved ones' fears about lasik. And if they still have their reservations, that's alright! Bring them down with you for your suitability evaluation, and we'll do our best to put their remaining concerns to rest!
The first step towards clear vision is the lasik suitability evaluation! This is where we find out if your eyes are suitable for lasik surgery, and if so, which types of procedures you'll be eligible for. It is also the best time to ask our optometrists and doctors any questions you might have before you take the next step.
The evaluation costs $37.50 and will take around 1 – 2 hours.
It will include a series of eye tests as well as a personal consultation with your lasik surgeon.
Suitability Evaluation Guide
Learn more about what to expect during your suitability evaluation.
Our suitability evaluations typically take place during these times, subject to availability –
Mondays
2:30 PM – 3:30 PM
Tuesdays

9:00 AM

2:30 PM – 5:15 PM

Wednesdays
9:00 AM
Thursdays
2:30 PM – 3:30 PM
Fridays

9:00 AM – 11:00 AM

2:30 PM – 5:15 PM
Just let us know which days and times work for you and we'll do our best to accommodate.